Engraving
Regular Arial Font. Script Arial Font. Upper Case. Lower Case. Intial Caps.
18 Characters Maximum. $25.00 Engraving Charges. Allow few extra days.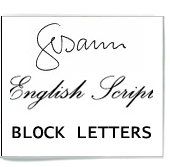 Want to have your wedding rings engraved with a personal inscription, but don't want the same old thing such as your wedding date or "I Love You"? Engraving can be done in regular and script fonts as well as in uppercase and lowercase. Most of the jewelers will not rings which have been engraved bit we'll take them back. Most of the rings can be engraved except eternity bands which are channel and prong set. Machine engraving is accomplished with different types of power-driven engravers that work off of templates or computer-aided designs. The jewelry is inserted in the machine and when turned on the machine automatically creates the letters. Start thinking about the inscription early.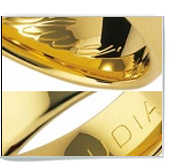 We charge $25 for engraving a ring with a maximum of 20 letters or numbers. Please allow few days for the rings to be engraved. There are two ways to get your special message carved forever into your ring: by hand or by machine. Hand engraving is an art that has been done for centuries; the results can be highly personal and aesthetically pleasing. Hand engravers use a tool called a graver. "It's an ancient tool," says Alex Pugachevsky of Alex Engraving in New York City. "It's a steel knife with a wooden handle." Pugachevsky says that engraving rings is challenging because rings are small and the engraved work, too, is minute: "The biggest problem in doing rings is that it's difficult to see."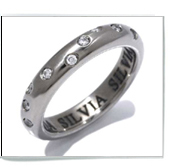 Customize the saying by adding your initials and/or wedding date after the saying. If the saying is too long, consider cutting it in half and putting each half on the bride's ring and half on the grooms. All My Love (Name & wedding date); Always For Forever; As You Wish; Constant/True; Endless As This Shall Be Our Bliss; Faithful Love Will Ever Last; Forevermore; For You Alone; Forever; Forever And Ever; Forever Entwined; Forever In Love; Forever In My Heart; From This Day On; Grow Old With Me; Here Is My Heart, Guard It Well; How Do I Love Thee; I Love You Most; Initials (wedding date); Life Has begun (wedding date); Life Is Good.